www.greentekindika.com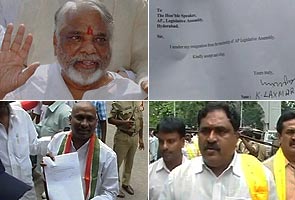 Hyderabad: The Congress has not been able to stop its MPs from Andhra Pradesh from resigning over their demand for a new state of Telangana. Ten Lok Sabha MPs and one Rajya Sabha MP - all from Telangana - have submitted their letters of resignation in Delhi.

The political crisis swelled in the Andhra Pradesh government as well, with 11 out of 15 ministers quitting on the same grounds.

And the Telangana Joint Action Committee has called a 48-hour bandh in the region starting tomorrow.

In Delhi, Dr K Keshava Rao, a Rajya Sabha member, denied that the MPs are posturing. "We don't play gimmicks. I am giving my resign to the Speaker, still people do not believe," he said. This morning, the Lok Sabha MPs skipped their appointment with Ms Kumar, leading the Congress to hope that the threat of a mass-resignation was largely bluster. That optimism was somewhat corrected by 3 pm, when the Lok Sabha MPs met Speaker Meira Kumar.

The revolt is the latest manifestation of a clear divide within the party over the need to bifurcate Andhra Pradesh. Politicians from Telangana say their voters will not forgive them if they don't sacrifice power for the cause of a new state for their homeland.
How the numbers add up in Andhra Pradesh.................................
The KCR factor...........................................................................
However the support for a separate Telengana State has always been unanimous among the people and their Representatives;
Even people of Andhra and Rayalaseema Regions and most of their representatives too have reconciled to this reality;
The problem has been with the fickle, spineless Central Government!