www.greentekindika.com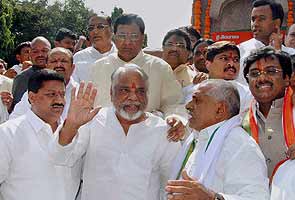 Hyderabad: The Congress may manoeuvre its way towards a compromise with its partymen from Telangana, who are scheduled to quit en masse today. They say they can no longer accept the Union government's indecision on whether to create a new Telangana state.

Eight Congress MPs from Telangana who were scheduled to resign from the Lok Sabha this morning have skipped an appointment in Delhi with Speaker Meira Kumar. Andhra Pradesh has 42 MPs in the Lok Sabha. Eight of these MPs belong to the Congress and are from Telangana. In addition to their resignations, 36 Congress MLAs, of whom ten are ministers in the state government, have said they will exit today.

And in a sign that a truce is being aggressively negotiated, senior Congress leader Ghulam Nabi Azad said, "The party would like to talk to the MPs and MLAs one more time. Some of the MLAs are coming to Delhi."
Full Story at,