For

US-LEED, LEED India, IGBC Green Homes, Green Factory Buildings, Green SEZs, and Green Townships

:

www.greentekindika.com

Have you read, "

Mayhem of the Miserables

!

" available @ US$ 1/- with

the Smashwords Summer/Winter promotion, ending July 31, 2011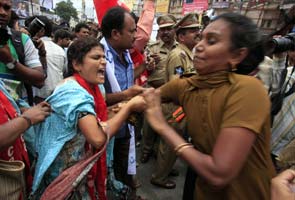 Hyderabad: A total of 98 MLAs from different parties in Andhra Pradesh have resigned, demanding a new state of Telangana. Home Minister P Chidambaram said in Delhi today that the Centre is not yet considering President's Rule for the state. He also said that his party is upset about the bulk resignations, and that the Congress hopes to "engage with" its politicians from Telangana region through more discussions in Delhi.

Hyderabad and other parts of Telangana remained paralyzed today as a massive bandh called by separatists entered its second day. The Home Minister said he is hoping that the protests will not upset the delicate law and order.

Schools and colleges are closed, entrance exams in Osmania University have been postponed and there are no Road Transport Corporation (RTC) buses on the roads.
Last time he said that the process of Telengana Process has begun; nothing came of it, hence the mass scale resignations, after waiting nearly 19 Months.
Now he says, not considering the President's Rule in Andhra Pradesh.
I will not be surprised if the Centre does exactly the opposite; it can protect Congress from losing its hold on the State Government, but, nothing is going to change the resolve of the people of the Telengana for a separate State!