Have your free copy of
"
My First Beer
"
with
the Smashwords Summer/Winter promotion, ending July 31, 2011
September 08, 2009 16:55 IST / Rediff.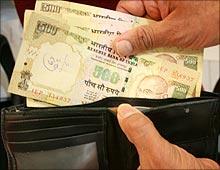 Vicky Nanjappa reveals how thieves working for Pakistan's ISI stole the template for Rs 500 and 1,000 currency notes, to improve the quality of fake currency being printed across the border.
India's fake currency problem gets bigger and bigger.
So dependant are Pakistan-based terror outfits on fake currency they recently stole a secret template India used to print its currency.
The Central Bureau of Investigation is currently probing the theft with the help of the Directorate of Revenue Intelligence, the Reserve Bank of India [ Get Quote ] and the Central Forensic Science Laboratory.
The CBI and sources in the Intelligence Bureau say certain security features of the template were stolen to enable the printing of Rs 1,000 and Rs 500 currency notes. The investgators are certain that the theft has the fingerprints of the Pakistan military's Inter Services Intelligence directorate.
Sources told rediff.com that the ISI relies on local gangs to undertake such assignments. IB sources say they are also probing if fugitive gangster Dawood Ibrahim's [ Images ] henchmen were involved in the crime.
Investigating agencies also do not rule out in-house involvement. They suspect the ISI's Indian contacts penetrated the establishments responsible for printing currency and obtained information.