Mid-Day.com, Updated: July 04, 2011 11:51 IST / NDTV.COM.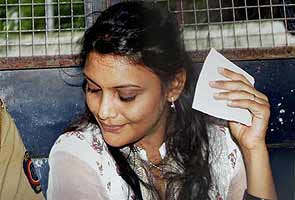 Mumbai:
Two prime witnesses in the high profile Neeraj Grover murder case have expressed their shock at the court's verdict. MiD DAY spoke to two men, whose services Susairaj availed to destroy evidence related to the killing.
A protester holds up a poster of Neeraj Grover for whose homicide Emile Jerome has been sentenced to 10 years of prison against a hoarding of the sequel to the movie Murder
While Kamlesh Jain cleaned the blood-stained mattresses in which Grover was stabbed, Sanjay Sharan (name changed) lent his car to Susairaj, who used it to dispose of Grover's mutilated body.
Both unsuspecting men were unwittingly responsible for delaying the course of justice. Both were of the opinion that the starlet was let off easily, and deserved harsher punishment.
Ms Susairaj approached Kamlesh Jain, a local mattress maker, when she needed to refurbish the bloodstained mattresses on which Neeraj Grover had been stabbed to death.
His shop is located in the Dheeraj Ganga building, a stone's throw from Dheeraj Solitaire, where Grover was brutally killed.
According to Mr Jain, Ms Susairaj approached him on May 8, 2008, a day after the murder, to order new covers for her mattresses.
Even during the total trail or after it, she hasn't shown any form of regret, guilt or

repentance
- except giving a hallow show of tear-wiping, at Church, for the benefit of the media!
A true modern-day, Cold-Blooded Lady Macbeth!!