www.greentekindika.com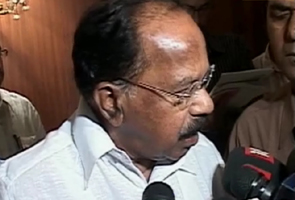 Kolkata: Union Law Minister M Veerappa Moily today launched an ambitious programme to bring down the huge number of cases pending before different courts in the country.

The programme named 'Mission Mode Programme for reduction of pendency of arrears in courts' was launched here on the occasion of the 150th year of Calcutta High Court, the oldest high court in the country.

"We have initiated this ambitious programme with a goal of disposing of 40 per cent of cases from the annals of subordinate courts," Moily said at the Sesquicentennial Building of the high court after inaugurating the programme.
If the Government stops being the largest litigant of the Nation (the old British legacy) and also fill up the rampant judicial vacancies at all levels right from the Subordinate Courts to the Suprement Court, the number of cases will automatically come down!