FOR LIGHT READING, Download your free copy of "
My First Beer
" Now
with
the Smashwords Summer/Winter promotion, ending July 31, 2011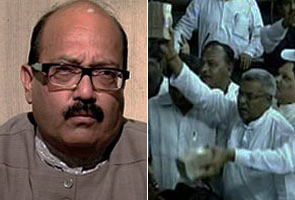 New Delhi: Politician Amar Singh will be interrogated tomorrow at 11 am by the Delhi Police about his alleged role in the cash-for-votes scam. The BJP alleges that three of its MPs were offered a crore to vote for Prime Minister Manmohan Singh during a trust vote in July 2008.

At the time, Mr Singh was a senior leader of the Samajwadi Party, an ally of the UPA coalition at the Centre. The police will investigate allegations that he provided the money offered to the BJP MPs - Ashok Argal, Faggan Singh Kulaste and Mahavir Bhagora. On July 22, 2008, hours before the trust vote process began, they marched into Lok Sabha waving bundles of cash. The Prime Minister survived the vote. A parliamentary committee was set up to study the BJP's allegations and it asked the Delhi Police to investigate the matter. (Read: Police evidence against Amar Singh)

Two men have been arrested since Sunday. Sanjeev Saxena describes himself as a former aide of Amar Singh. Hidden cameras provided by a TV channel reportedly show Mr Saxena offering money to the BJP MPs. The TV channel was brought on board to conduct the sting by Sudheendra Kulkarni, who was then advisor to BJP leader LK Advani. He will also be questioned about his role by the police.