LEED Consultancy, Green Building Design, Green Homes, Green Factory Buildings, Green SEZs, Green Townships.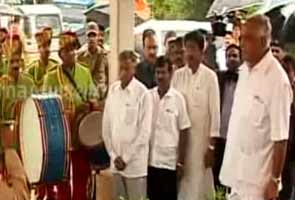 Bangalore: BS Yeddyurappa kept his promise to visit the Lord Manjunatha temple in Dharmasthala this morning. He offered prasad, but did not make references to the controversial face-off he had set up with his political rival.

The Karnataka Chief Minister had dared HD Kumaraswamy, leader of a major Opposition party, to meet him at this temple. Mr Kumaraswamy, in the presence of God, he said would have to testify that allegations of corruption that he has leveled against the Chief Minister are based on fact.



It is a shame that a Chief Minister should challenge the opposition leader to meet at a temple to swear the

truth

about the

Corruption

Allegations

leveled

against him;




It is even demeaning not to adhere to the truth test, as challenged by him.




Being politicians nobody would ever

believe

that they would speak truth even under 'God's Oath'!




Besides, Allegations should be investigated by an independent authority, rather than indulging in this kind of verbal-duels.




Full Story at,