For LEED
Consultancy
/ IGBC
Certifications
, Green Building
Design
, Green Homes, Green Factory Buildings, Green SEZs, Green Townships
&
Energy Audits
-
www.greentekindika.com
With Due Acknowledgement To: JOSH GROSSBERG, eonline.com / Today 8:36 AM PDT.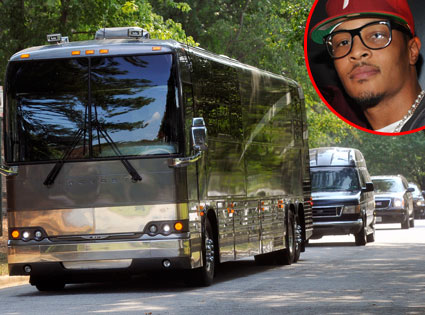 AP Photo/John Amis, Courtesy Moses Robinson/WireImage.
Just when T.I. thought he was out, they pull him back in.
Less than 24 hours after he was released early from an Arkansas minimum-security prison, the King of the South has been remanded back into federal custody due to an "issue" with his mode of transportation to an Atlanta halfway house.
MORE: T.I. Rolls to a Halfway House With an Entourage
T.I.'s attorney, Steve Sadow, tells E! News the luxury coach that chauffeured the No Mercy on his 375-mile journey back to the ATL, complete with entourage trailing him in black SUVs, didn't apparently pass muster with prison officials. So the authorities decided at the last minute to have T.I. serve out the remainder of his probation-violation sentence at an Atlanta pen instead.
"We are awaiting the opportunity to quickly resolve whatever the issue may be that the Federal Bureau of Prisons has with T.I.'s method of transportation, bus, from Arksansas to Atlanta, so that T.I. can return to the halfway house to complete the remaining days of his sentence," Sadow said.
The legal eagle declined to comment on whether there was alcohol or drugs on the bus or whether there was an issue with the VH1 reality series the musician began shooting as soon as he got out of Arkansas' Forrest City facility. (A rep for the Dismas Charities Halfway House told TMZ that cameras wouldn't be allowed into the facility when he does finally show up.)
According to the Federal Bureau of Prisons website, T.I. (whose real name is Clifford Harris Jr.) is now listed as an inmate at an Atlanta federal prison and isn't due to get out now until Sept. 29, the day of his original release.
A prison rep declined to comment on the situation.
The Grammy winner, on probation for an illegal weapons conviction, had been approved for early release this week and tweeted to fans yesterday that "it feels great to be back where I belong."