For LEED / IGBC
Certifications

,

Consultancy

, Green Building

Design

, Green Homes, Green Factory Buildings, Green SEZs, Green Townships

&

Energy Audits

-
www.greentekindika.com
Associated Press / guardian.co.uk / Sunday 7 August 2011 18.41 BST.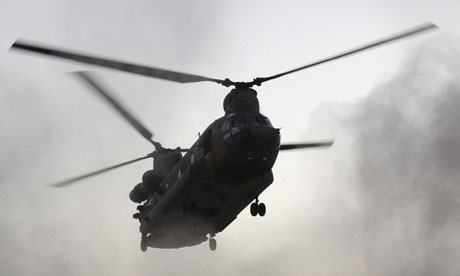 The US Navy Seals' Chinook was shot down in Wardak, Afghanistan, killing 38. Photograph: Romeo Gacad/Getty.
The US Navy Seals and other troops whose helicopter was shot down in eastern

Afghanistan

had rushed to the mountainous area to help a US army ranger unit that was under fire from insurgents, two US officials said Sunday.
The rescue team had completed the mission, subduing the attackers who had the rangers pinned down, and were departing in their Chinook helicopter when the aircraft was apparently hit, an official said.
On Sunday, Nato began an operation to recover the remains of the large transport helicopter, while Afghan and American forces battled insurgents in the region of the crash. The clashes Sunday did not appear to involve the troops around the crash site.
"There have been a small number of limited engagements in the same district as yesterday's helicopter crash, however those clashes have not been in the direct vicinity of the crash site," NATO said in a statement. "As of now, we have no reporting to indicate any coalition casualties resulting from these engagements."