For LEED
Consultancy

/ IGBC

Certifications

, Green Building

Design

, Green Homes, Green Factory Buildings, Green SEZs, Green Townships

&

Energy Audits

-
www.greentekindika.com
Owen Bowcott, Haroon Siddique and Andrew Sparrow, guardian.co.uk / Wednesday 17 August 2011 13.40 BST.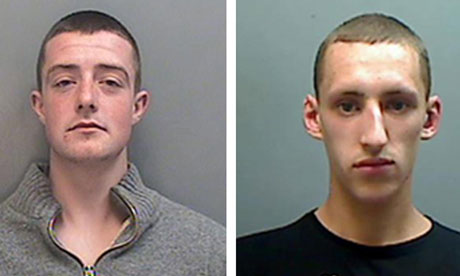 Jordan Blackshaw, left, and Perry Sutcliffe-Keenan were each jailed for four years for inciting disorder via social networking sites. Photographs: Cheshire police / PA.
Two men jailed for four years for posting messages inciting riots although no trouble resulted from them.
Criticism is growing of the sentences imposed on some convicted rioters after two men were jailed for four years for posting messages on Facebook inciting people to create disorder in their home towns.
David Cameron

defended the tough sentencing approach for sending out a clear message, but a senior Liberal Democrat accused the courts of seeking retribution.
Jordan Blackshaw, 20, from Northwich Town, and Perry Sutcliffe-Keenan, 22, of Latchford, Warrington, were sentenced at Chester crown court after admitting using the social networking site to try to organise riots. No trouble resulted from their actions.
Blackshaw's solicitor, Chris Johnson, of Moss Haselhurst solicitors in Winsford, said on Wednesday that his client would be appealing against the four-year sentence. "It was something which was started as a joke by Jordan," he told the BBC.
The prime minister, on a visit to the north-west, said: "I think it's right that we should allow the courts to make decisions about sentencing.
"They decided in that court … to send a tough message and I think it's very good that courts are able to do that."
01) I believe that Judges were right in their verdicts as extraordinary circumstances needs unique solutions!
02) Here, they have reckoned with the intention rather than the resultant harm while pronouncing sentences, unlike it is done in case of an Attempt Murder and Murder, which attract sever punishment than the former!!
03) In fact, I, personally, believe, that even Attempt Murders should be treated on a par with Murders, as the intent happens to be the same, except the result was a failed one!!!