For LEED
Consultancy

/ IGBC

Certifications

, Green Building

Design

, Green Homes, Green Factory Buildings, Green SEZs, Green Townships

&

Energy Audits

-
www.greentekindika.com
huffingtonpost.com / Updated: 8/26/11 11:08 AM ET.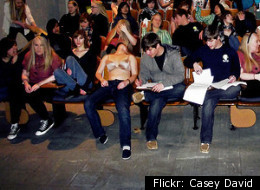 A survey about the behaviors of suburban Chicago teenagers released by the Cook County Department of Public Health Thursday revealed some disturbing information.
The results indicate that nearly one in 10 teens has attempted suicide, 40 percent have tried cigarettes and seven percent claimed they were raped.
The Youth Risk Behavior Surveillance Survey evaluated teens' habits by administering a voluntary, anonymous, 91-item questionnaire to 1718 students in 20 public high schools that covered six categories: behaviors that result in violence, tobacco use, alcohol and other drug use, sexual behaviors, dietary behaviors and physical activity.
It's part of a nationwide effort led by the Centers for Disease Control and Prevention to evaluate teen behavior, the Daily Herald reports.
The Department of Public Health hopes these findings can be used to help pinpoint problems and address specific areas where more education could diminish these risks, the Chicago Sun-Times reports.