For LEED
Consultancy

/ IGBC

Certifications

, Green Building

Design

, Green Homes, Green Factory Buildings, Green SEZs, Green Townships

&

Energy Audits

-
www.greentekindika.com
NDTV Correspondent / Updated: August 23, 2011 17:46 IST.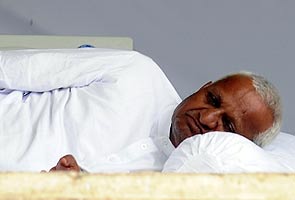 New Delhi
:

Even as Anna Hazare announced that his fast against corruption will continue - the 74-year-old is now on his eighth day without food - his widely-welcomed movement against corruption seems to be heading into its third act. (Read: Who is Anna Hazare?) | (Read: What is Jan Lokpal Bill?)
The Prime Minister has written to the activist, urging him to end his hunger strike. In his letter, Dr Manmohan Singh wrote, "We are concerned about your health." He has also offered that the activists' version of the anti-corruption Lokpal Bill may be considered by a Parliamentary Committee, if the Speaker of the Lok Sabha permits. This committee - the Standing Committee on Law, Justice and Personnel - has so far been scrutinising the government's version of the Bill. Before the PM's letter, the government had suggested that some features of Anna's Bill could be added as amendments to the government's Bill. The PM has gone a step further, suggesting that Anna's Bill in its entirety may be discussed by the Standing Committee on Law, Justice and Personnel which combines 31 MPs from different parties.
Team Anna has so far said it wants its Bill to be debated directly by Parliament, instead of being weighed by a committee.
The Prime Minister met with Congress General Secretary Rahul Gandhi this evening as the government scrambled to find a compromise that will end the stand-off with Anna and his advisors.
The first set of talks were held by Law Minister Salman Khurshid who met with Anna's close aide, Arvind Kejriwal. "Time is running out," said Mr Khurshid. "We need to find a solution fast...and a solution is possible through such talks," said the Law Minister.