For LEED
Consultancy

/ IGBC

Certifications

, Green Building

Design

, Green Homes, Green Factory Buildings, Green SEZs, Green Townships

&

Energy Audits

-
www.greentekindika.com
NDTV Correspondent / Updated: August 27, 2011 12:42 IST.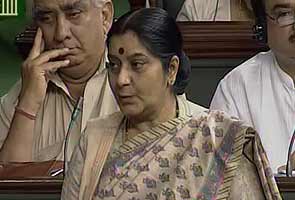 New Delhi: Highlights of BJP leader Sushma Swaraj's speech in the Lokpal Debate:
This is a historic debate. How long it lasts is not important...we must conduct it courteously...if you don't like what I am saying, let your representatives respond...but let us show the country that its representatives can function well and healthy debate.
The Lokpal Bill has been placed in Parliament nine times. Even we failed to get it passed twice when we were in power.
The timelines that Anna keeps giving...some people are offended that how can they dictate this...but think about this...for so many years, we have all failed to push it through. I blame our party as well. Every idea has a time. I think we can deliver an effective Lokpal to the people. I believe this because there is a huge national movement for it now. Through his campaign, Anna has brought awareness of the Lokpal Bill to everyone.
People are unable to afford two meals a day. But those in power are swindling crores. People ask why a government that keeps saying it wants to fight corruption...but the Lokpal Bill the government delivered...was weak. That is why people have questioned your motives about how serious you are. Your version of the Bill fuelled their anger. The PM addressed us, but there were gaps in his speech. Anna has completed the 11th day of his hunger strike for the Lokpal Bill. Thousands are joining him.
The PM said in his speech about Anna "I applaud you, I salute you." He said we would move soon to introduce an effective Lokpal. But the next day, the government was meant to introduce a resolution which would list the three non-negotiables listed by Anna. We had some concerns, we met with Team Anna. Both sides had some doubts, we came to an understanding.