For LEED
Consultancy

/ IGBC

Certifications

, Green Building

Design

, Green Homes, Green Factory Buildings, Green SEZs, Green Townships

&

Energy Audits

-
www.greentekindika.com
NDTV Correspondent, Updated: August 27, 2011 13:46 IST.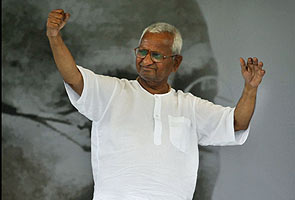 New Delhi
:

It's almost certain now that Anna Hazare will end his fast this evening.

The 74-year-old activist is on the 12th day of his hunger strike.

A debate in parliament is expected to conclude with the acceptance of Anna's three demands for a new Lokpal or ombudsman committee in charge of investigating complaints against government servants.
Anna has said he will not end his fast till parliament passes a resolution accepting three must-have powers for the Lokpal.

The draft of this resolution - prepared by the government in collaboration with Anna's associates - includes these three demands.

Political parties are likely to accept them. BJP leaders in their speeches during the Lokpal debate have said they back these features.
Anna's trio of essentials include bringing all central government employees, including junior bureaucrats under the purview of the Lokpal.

He also wants the Lokpal model to be replicated in states.

Finally, he wants a citizen's charter to be displayed in all government departments.

This notice will list the duties of that department and provide for punishment for under-performance.
Call of the commons: People vs corruption : report of a CSE media task force to Ralegan Siddhi
Anna Hazare: The Face Of India's Fight Against Corruption