For LEED
Consultancy

/ IGBC

Certifications

, Green Building

Design

, Green Homes, Green Factory Buildings, Green SEZs, Green Townships

&

Energy Audits

-
www.greentekindika.com
NDTV Correspondent, Updated: August 24, 2011 13:48 IST.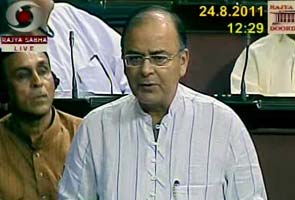 New Delhi
:

As Anna Hazare refuses to end his hunger strike, the government is writhing under the pressure of his frail health and the exacting negotiations that Anna's associates are levying upon senior ministers.
The government will consult with leaders from the BJP and other parties at a meeting this afternoon that will focus on Anna, and his demand that his version of the Lokpal Bill be cleared by Parliament before the current session ends on September 8.

Team Anna wants the government to also withdraw its draft of the Lokpal Bill which was sent for review to a Parliamentary committee last week.
Any exit route for the government from the Anna

crisis will need considerable support from the Opposition, who has repeatedly said that till the Anna crisis peaked, the government had made no effort to include it in the talks for the creation of a Lokpal or independent agency in charge of handling corruption among public servants.
In the Rajya Sabha today, BJP leader Arun Jaitley's statement indicated the conundrum that all parties face - how to balance Anna, the ostentatious and ceaseless support for him from across the country, and the need to protect Parliament's exclusive right to legislate.
"While we are in this delicate situation, and we are discussing issue of corruption, I believe that this opportunity presents a historic challenge to us.

Parliament is the ultimate law-making authority...movements outside Parliament are all intended to convey public opinion and the intensity of public opinion to us," Mr Jaitley said.

"That message coming to all of us could not be louder and clearer.

That the country is expecting Parliament to perform its obligation and duty and take effective steps so we are able to substantially tackle the problem of corruption."
Search Amazon.com for anna hazare
Search Amazon.com for Indian Political Corruption