For LEED / IGBC
Certifications

,

Consultancy

, Green Building

Design

, Green Homes, Green Factory Buildings, Green SEZs, Green Townships

&

Energy Audits

-
www.greentekindika.com
Sam Jones, Paul Lewis, Matthew Taylor and Ben Quinn, guardian.co.uk / Monday 8 August 2011 08.41 BST.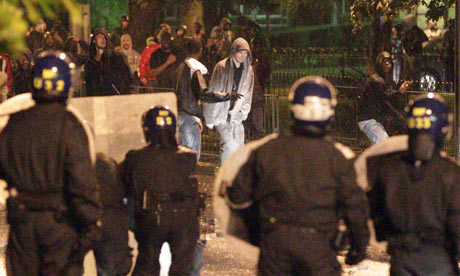 Riot police and youths near a Currys store that was broken into in Brixton, south London, as a second night of rioting hit London. Photograph: Lewis Whyld/Press Association.
Violence, vandalism and looting spread beyond Tottenham and Enfield to reach Brixton, leaving 35 police injured.
There has been a second night of rioting across

London

, with violence erupting in several of the capital's boroughs, from Brixton in the south to Enfield and Islington in the north and Walthamstow to the east.
What

police

are calling "copycat criminal activity" – some of it apparently part of an orchestrated plan – has so far resulted in 100 arrests.
In a statement on Monday morning, the

Metropolitan police

said they were shocked at the levels of "disgraceful violence" that had left 35 officers injured.
"Officers responding to sporadic disorder in a number of boroughs made more than 100 arrests throughout last night and early this morning.
"This is in addition to the 61 arrests made on Saturday night and Sunday morning … Officers are shocked at the outrageous level of violence directed against them. At least nine officers were injured overnight in addition to the 26 injured on Saturday night.
"We will not tolerate this disgraceful violence. The investigation continues to bring these criminals to justice."
Shops in Enfield Town and the A10 retail park were vandalised and looted, and there were reports of two vehicles set on fire.
Mounted police were seen chasing groups of masked youths, some carrying sticks, away from stores, while lines of riot police readied themselves for trouble.