For LEED
Consultancy

/ IGBC

Certifications

, Green Building

Design

, Green Homes, Green Factory Buildings, Green SEZs, Green Townships

&

Energy Audits

-
www.greentekindika.com
NDTV Correspondent / Updated: August 23, 2011 16:27 IST.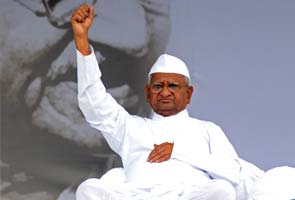 New Delhi
:

Hours after Anna Hazare vowed to continue his fast against corruption despite his frail health, a member of his core team has met with Law Minister Salman Khursheed. Anna's aide Arvind Kejriwal reportedly met with the minister. This morning, Mr Kejriwal had said that despite comments to the media about being open to negotiations with Team Anna, the government had yet to formally offer a meeting to the activists.
Anna and his team of advisors - referred to as Team Anna - have so far been insisting that Parliament should adopt their version of the anti-corruption Lokpal Bill. 74-year-old Anna, who is on the eighth day of his fast, reiterated that demand this morning to an audience of thousands at Ramlila Maidan, which is serving as his camp against corruption.

But his advisors today indicated flexibility, suggesting that like the government, they want to find a compromise quickly.
Amid concerns about his health and hunger strike, Anna appeared on stage at his camp against corruption in Delhi and said, "I have been fasting for eight days but I am fine. There is no cause for concern. The doctors attending to me won't let me die. I've lost 5.5 kilos," the 74-year-old said, seen today without his trademark Gandhi topi or cap. Doctors say the 74-year-old activist is frail but not in critical condition. (Read: Who is Anna Hazare?)
His health - and the apparently inexhaustible supply of goodwill that Anna evokes - has the government scrambling to find a solution that would be acceptable not just to Team Anna, but the Opposition as well.
An all-party meeting has been set for 3.30 tomorrow afternoon. Spiritual guru Sri Sri Ravi Shankar is being used as a channel for negotiations between all three sides - the government, the Opposition and the activists. Sources say the Congress is also pressuring General Secretary Rahul Gandhi to intervene and broker peace with Anna and his associates.
Search Amazon.com for Lokpal
Search Amazon.com for anna hazare