For LEED
Consultancy

/ IGBC

Certifications

, Green Building

Design

, Green Homes, Green Factory Buildings, Green SEZs, Green Townships

&

Energy Audits

-
www.greentekindika.com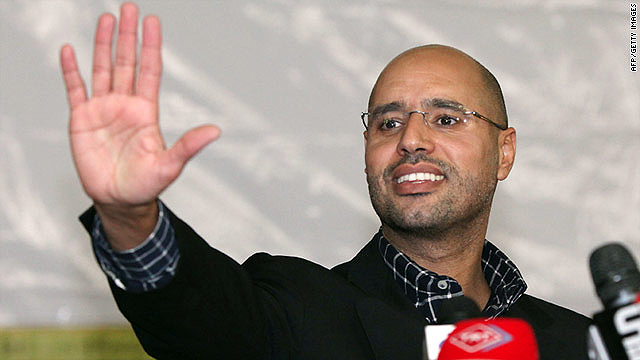 Saif al-Islam Gadhafi, one of three sons of Moammar Gadhafi reportedly captured by Libyan rebels, waves to a crowd in March.
(CNN) - Rebel leaders said early Monday that they had captured three of embattled Libyan leader Moammar Gadhafi's sons -- Saif al-Islam, Saadi and Mohammed - during their siege of Tripoli.
"As for the other four sons, we think they are either hiding or they have run away," said Guma El-Gamaty, the Britain-based coordinator for Libya's Transitional National Council.
The latest arrest was that of Mohammad Gadhafi, whom the rebels claimed was being confined to his house.
"I'm being attacked right now. This is gunfire inside my house. They are inside my house," a man who identified himself as Mohammed Gadhafi told Al Jazeera in a phone call.
A barrage of gunfire was then heard and the phone cut off.
Later, the head of the Transitional National Council told the station that Mohammed Gadhafi was not harmed.
Earlier, rebel leaders said they captured Saif al-Islam Gadhafi, a top official in his father's regime. Another of Gadhafi's sons, Saadi Gadhafi, was also in custody, the rebels announced.
The International Criminal Court says it plans to negotiate the transfer of Saif Gadhafi who - along with his father - is wanted for crimes against humanity in connection with their attempts to put down the emerging revolt against Gadhafi's four-decade rule in February.
The court, based in The Hague, Netherlands, issued a similar warrant for Abdullah al-Sanussi, the elder Gadhafi's brother-in-law and Libya's intelligence chief.