For LEED / IGBC
Certifications

,

Consultancy

, Green Building

Design

, Green Homes, Green Factory Buildings, Green SEZs, Green Townships

&

Energy Audits

-
www.greentekindika.com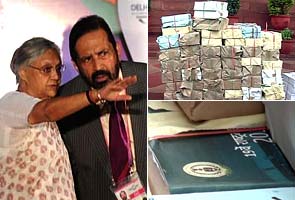 New Delhi: A report on the Commonwealth Games has been tabled in Parliament, placing Delhi Chief Minister Sheila Dikshit in the line of fire. The report, 800 pages long, is the work of the government's auditor, and gives Mrs. Dikshit a failing grade largely on account of the massive over-expenditure for the Games.
Mrs. Dikshit said this morning that she will respond to the allegations after the auditor's report is formally presented in Parliament, and her office gets a copy. She has called an emergency meeting of her cabinet this afternoon at 3.
India bid for the Commonwealth Games in 2003; they were held in Delhi in September last year. The man responsible for stitching together the event - Suresh Kalmadi - is in jail. Mr Kalmadi, a Member of Parliament, was Chairman of the Organising Committee. Along with his associates, several of who are also now in prison, Mr Kalmadi seemed to function in a continuum of corruption, according to a series of exposes by different media companies including NDTV.
The government's auditor agrees with this, placing the blame not just on Mr Kalmadi but also on the Prime Minister's Office for placing Mr Kalmadi in charge. "In our opinion, the decision of the PMO for appointing Suresh Kalmadi as Chairman of the OC facilitated the conversion of the originally envisaged government-owned OC into a body effectively outside the government control." The Prime Minister's Office says Mr. Kalmadi's chairmanship was determined by a contract signed by Atal Behari Vajpayee's government, which was in power when India bid for the Games. Mr Vajpayee's party, the BJP, denies this, saying that it clearly stipulated that a government nominee - the Sports Minister - was meant to chair the Organising Committee. With the rapid denials, Mr Kalmadi's appointment has turned into one of India's unsolved mysteries.
The government's auditor - the Comptroller and Auditor General - also blames Mrs. Dikshit, widely acclaimed for her honesty and efficiency, for costing the government more than 100 crores in losses on account of poorly-handled contracts.
In several cases - like in the purchase of medical equipment - companies allegedly did not deliver several of the supplies they were paid handsomely for.