For LEED / IGBC
Certifications

,

Consultancy

, Green Building

Design

, Green Homes, Green Factory Buildings, Green SEZs, Green Townships

&

Energy Audits

-
www.greentekindika.com
Vaidyanathan, Updated: August 05, 2011 11:09 IST.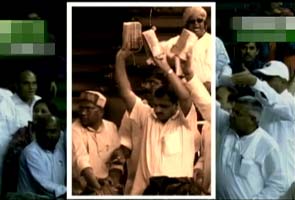 New Delhi: The Delhi Police has been ordered to complete its inquiry into the cash-for-votes scandal in three weeks. The scandal revolves around three BJP MPs who claimed they had been offered a crore to vote in favour of the UPA government during a trust vote in 2008.
The court pulled up the Delhi Police. "Drop your inhibitions and follow the law. When we are monitoring the probe where is the question of inhibition?" The police was also told to identify the source of the funds that were allegedly offered as a bribe.
The BJP MPs - Ashok Argal, Faggan Singh Kulaste and Mahavir Bhagora - claim that they were offered the bribe by middlemen acting on behalf of politicians Amar Singh. In 2008, Mr Singh was a senior leader of the Samajwadi Party which provided external support to the UPA government on crucial issues. He has, on earlier occasions, denied any link to the cash-for-votes scandal.
In July 2008, the MPs created a spectacle when they marched into the Lok Sabha waving bundles of cash. Prime Minister Manmohan Singh won the vote.
The Supreme Court said, "It is so very distressing that middlemen tried to manipulate the proceeding of the Parliament and to some extent succeeded."