For LEED
Consultancy

/ IGBC

Certifications

, Green Building

Design

, Green Homes, Green Factory Buildings, Green SEZs, Green Townships

&

Energy Audits

-
www.greentekindika.com
Basharat Peer, The Guardian / Saturday 25 June 2011.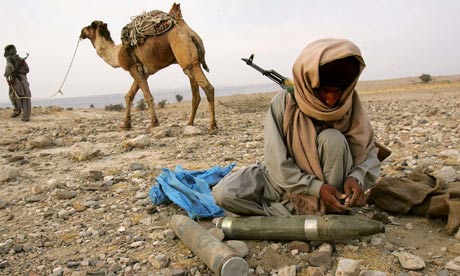 Border crossings ... a guerrilla from the Marri tribe prepares rockets for firing on a Pakistani troop outpost, 2006. Photograph: John Moore/Getty Images.
Jamil Ahmad
, a Pakistani civil servant, began his career in Baluchistan in the 1950s. Most civil servants posted to such a remote area as Baluchistan, North Western Frontier Province, or the tribal areas along the Pakistan-Afghan border would lobby hard for a posting in the bigger cities of Pakistan, but Ahmad stayed on, spending several decades working as an administrator. Unlike most officials from the plains, Ahmad learned Pashto, the language most tribes along the dreaded frontier speak. Along the way, he took notes, and by 1974 had turned his impressions into a collection of inter-linked stories.
Ahmad stashed away his first draft, leaving it untouched for three decades. In 2008, he was 75, retired from the civil service, and living in the Pakistani capital, Islamabad. Two young Pakistani women, a Lahore-based bookseller, Aysha Raja, and a Karachi-based columnist and editor, Faiza Sultan Khan, called on Pakistani authors to submit stories for a competition. Ahmad's younger brother insisted that he must show them his work. After reworking the 35-year-old manuscript, Ahmad sent it to Khan, who championed it, and showed it to an editor at Penguin.
Two years later, Jamil Ahmad made his debut as the 78-year-old writer of The Wandering Falcon, one of the finest collections of short stories to come out of south Asia in decades. The Wandering Falcon begins in Baluchistan in the early 1950s, as a tribal chief's daughter married to an impotent man elopes with her father's servant and finds shelter in an isolated fort manned by a few dozen lonely soldiers. Ahmad conveys the fear and desperation of the lovers as he describes them being offered water on their arrival at the fort gates after an arduous trek. "As she sensed water, she started sucking his hand and fingers like a small animal. All of a sudden, she lunged towards the bucket, plunged her head into it and drank with long gasping sounds until she choked."
The couple find shelter in an abandoned corner of the fort. A son is born, and they raise the child in a hidden corner for six years until the Siahpad, their tribe, sends men in pursuit of them. The couple and their son run for safety but are hunted down, and two stone shrines are raised over their graves as a sign of Siahpads' revenge. Tor Baz, the boy left to die, is adopted by Baluch rebels fighting the Pakistani government and grows up to be the wandering falcon of the title, a boy with no fixed identity, moving between precarious worlds full of humanity, courage, cruelty, and above all poverty so dire that survival seems to be the greatest virtue.
Although the tribal areas of Pakistan have dominated the news and opinion pages for years, rarely has a writer shown greater empathy for its people, or brought such wisdom and knowledge to writing about a terrain largely inaccessible to journalists and writers. The Pak-Afghan frontier has become synonymous with terrorists and the mechanised war of drones. The ambitions and interests of nation states – America, Pakistan, Afghanistan – have rendered invisible the Baluch. Jamil's stories return the humanity to this devastated region. His characters defy the much-used categories of our times: moderates or extremists, Salafis or Sufis, pro or anti-American. Their concerns are often ordinary, mostly difficult struggles for a life of dignity and love.