For LEED
Consultancy

/ IGBC

Certifications

, Green Building

Design

, Green Homes, Green Factory Buildings, Green SEZs, Green Townships

&

Energy Audits

-
www.greentekindika.com
NDTV Correspondent / Updated: August 23, 2011 12:50 IST.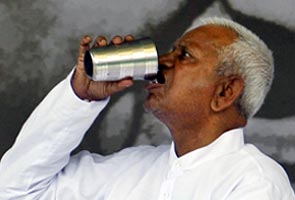 New Delhi
:

Amid concerns about his health and hunger strike, Anna Hazare appeared on stage at his camp against corruption in Delhi and said, "I have been fasting for eight days but I am fine. There is no cause for concern. The doctors attending to me won't let me die. I've lost 5.5 kilos," the 74-year-old said, seen today without his trademark Gandhi topi or cap. "Don't become violent anywhere. It will demean our revolution," he urged the thousands listening to him. Referring to the stormy discussions in Parliament over his movement, he said, "Today Parliament began and ended in two minutes. This is the power of non-violence. "
Doctors say Anna Hazare is weak but not in critical condition. Kiran Bedi, one of Anna's closest associates, tweeted at 11 am, "Each hour of delay will have serious costs! The govt needs to realise this. Time is of absolute essence."
At Parliament, the Left and other parties - not including the BJP - protested against the government. "The PM is making all sorts of statements outside. The House is in session. So he has to tell us what he is planning to do," said Left leader Sitaram Yechury. An all-party meeting has been called tomorrow at 3.30 pm by the government.
With public anger and frustration on unparalleled display, the government is desperate to find a compromise - not just with Anna and his activists, but with the Opposition as well, whose support will be critical in determining how Anna's demands are treated in Parliament. As the negotiations pick up speed - not officially but behind the scenes- spiritual leader Sri Sri Ravi Shankar has emerged as a major mediator. He is seen repeatedly with Anna on stage at Ramlila Maidan; he also met with BJP leader LK Advani yesterday.
Sources say the Congress is pressuring General Secretary Rahul Gandhi to intervene and help make peace with Anna and his associates, referred to as Team Anna. A key member of that group, Arvind Kejriwal, this morning denied media reports that the activists have privately indicated their preference for either the PM or Mr Gandhi to handle the discussions.