For LEED
Consultancy

/ IGBC

Certifications

, Green Building

Design

, Green Homes, Green Factory Buildings, Green SEZs, Green Townships

&

Energy Audits

-
www.greentekindika.com
NDTV Correspondent / Updated: August 23, 2011 12:50 IST.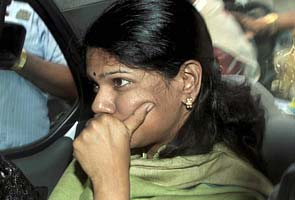 New Delhi
:

In court today, DMK leader Kanimozhi, like others arrested for the telecom scam, included the Prime Minister and P Chidambaram in her line of defense.
Kanimozhi said that in 2008, when A Raja of her party was Telecom Minister, Dr Manmohan Singh and Mr Chidambaram, who was then Finance Minister, were aware that Mr Raja had decided not to auction second-generation of 2G spectrum to companies. Mr Raja has been arrested - he is accused of selling licenses for mobile networks and accompanying frequency at hefty bargains.
One of those companies - Swan Telecom- allegedly routed a 214-core kickback to Mr Raja via a TV channel in Chennai that's partly owned by Kanimozhi, whose father M Karunanidhi heads the DMK.

The party is a member of the UPA coalition at the Centre; Kanimozhi's arrest has considerably strained the relations between her party and the Congress. Another senior DMK leader, Dayanidhi Maran, was also forced to resign a few months ago after the CBI said it had evidence to suggest that when he was Telecom Minister (before Mr Raja), he also misused his office to benefit his family and friends.
Mr Raja has been charged with cheating and criminal conspiracy; he has also been accused of ignoring the advice of other members of the government to auction licenses, which would have meant higher revenue for the government.
"I am showing you (judge) the minutes of the meeting in which the Prime Minister, the then Finance Minister and the Telecom Minister decided that the licenses for the 2G spectrum was not to be sold/auctioned," senior advocate Sushil Kumar, appearing for Kanimozhi, told the judge conducting the 2G trial in Delhi.