For LEED
Consultancy

/ IGBC

Certifications

, Green Building

Design

, Green Homes, Green Factory Buildings, Green SEZs, Green Townships

&

Energy Audits

-
www.greentekindika.com
Press Trust of India/ ndtv.com / Updated: August 28, 2011 12:28 IST.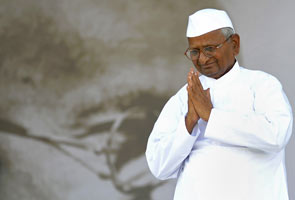 New Delhi
:

After securing Parliament's nod on key elements of Jan Lokpal bill, Anna Hazare today ended his 12-day-old fast declaring that electoral reforms will be next on his agenda.
The 74-year-old Gandhian accepted a glass of tender coconut water mixed with honey from two little girls - Simran and Ikrah - at 10:20 am to the dais at the Ramlila Ground to break his fast that began on August 16.
Outlining his future agenda, Hazare chose reforms in election and education systems and working for the betterment of farmers and labourers.
He said his fight would now be for Right to Recall and Right to Reject. While Right to Recall would be for those elected, the Right to Reject will be a column in the ballot paper which would ensure the voter has a right to say that he does not like the listed candidates.
"We have to reform electoral system. (we need) Right to Reject. You should be able to reject your candidate in the ballot paper. We have to do that.
"If majority say they do not like any of the candidates in the fray, the election should be cancelled. How much money they (candidates) will distribute? Once the candidate spends Rs. 10 crore for one election and if the election is cancelled, then right sense will dawn upon them," he said.
Mr Hazare also said that his fight against corruption continues.
Call of the commons: People vs corruption : report of a CSE media task force to Ralegan Siddhi
Anna Hazare: The Face Of India's Fight Against Corruption