FOR LIGHT READING, Download your free copy of "
My First Beer
" Now
with
the Smashwords Summer/Winter promotion, ending July 31, 2011
Agence France Presse, NDTV / Updated: July 19, 2011 22:39 IST.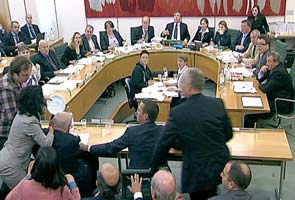 London: A protester hit Rupert Murdoch with a foam pie Tuesday as the media mogul testified to British lawmakers on the phone-hacking scandal, in a bizarre finale to what he called the "most humble day of my life."

The 80-year-old News Corporation chief's Chinese-born wife Wendi Deng leaped up and slapped the assailant, who was dragged off by police after the attack during a parliamentary committee hearing quizzing Murdoch and his son James. (Twitter Buzz)

The Guardian newspaper and Sky News named the attacker as a comedian called Jonnie Marbles. In a Twitter message shortly before the incident, he said: "It is a far better thing that I do now than I have ever done before #splat."