Download your free copy of "
My First Beer
" Now
with
the Smashwords Summer/Winter promotion, ending July 31, 2011
NDTV Correspondent, Updated: July 16, 2011 11:02 IST.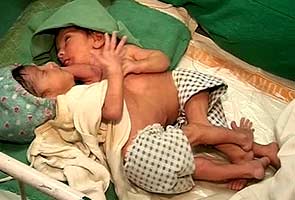 Betul, Madhya Pradesh:
The joy of the new parents was short-lived, as they soon realized that they not only have got twins but that they are conjoined twins. The poverty stricken parents decided to hand them over to the Padhar hospital in Betul, Madhya Pradesh, expressing inability to bear the medical expenses of their daughters.
The parents had to take the difficult decision after they were told that the surgery to separate them and allied medical care would cost nearly
R

s.
10 lakh.
The parents Hariram Yadav and his wife, Maya, say they had little choice.
Here's how you can help them:
LOCAL ACCOUNT:
A/C Name
: Padhar Hospital
Number
: 20199101003
Bank of Maharashtra, Padhar Branch, Betul. M.P IFSC code
: MAHB0000614
Full Heart-Rending Story & Video Clip at,