Have you read, "
Mayhem of the Miserables
!
" available @ US$ 1/- with
the Smashwords Summer/Winter promotion, ending July 31, 2011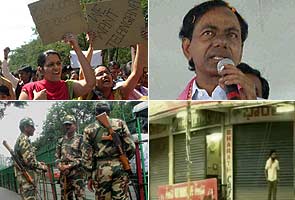 Hyderabad: Normal life in the Telangana region of Andhra Pradesh was disrupted today due to the two-day bandh called by the Telangana Joint Action Committee (JAC) in support of their demand for a separate state.

Schools, colleges, shops and other commercial establishments are closed and public transport services are hit due to the bandh in all Telangana districts. There are prohibitory orders in place in parts of state capital Hyderabad, which is part of the Telangana region. (Read: Bandh disrupts normal life in Telangana)

Seventy-two companies of central forces have been rushed to Andhra Pradesh, as asked by Chief Minister Kiran Reddy. But despite a cloak of security being thrown around the Osmania University campus - the epicentre of protests for a separate Telangana state - there are reports of confrontations between security personnel and students there.
Almost everyone in Hyderabad and all parts of Telengana desires that a final decision of UPA Government be announced, immediately.
Any further delay in the process of creating a separate 'Telengana State', as announced by the Home Minister, on the Night of December 09, 2009, would create more problems to the Students' Academic Careers, Civic Life and the Economic Growth of this Region!
If, over 600 Youth Committing Self-Immolation for the cause, the mass scale resignations of the Ministers, MLAs and MPs of Congress and the MLA & MPs of TDP hasn't convinced the powers-that-be, what else would?