For

US-LEED, LEED India, IGBC Green Homes, Green Factory Buildings, Green SEZs, and Green Townships

:

www.greentekindika.com
Have you read, "
Mayhem of the Miserables
!
" available @ US$ 1/- with
the Smashwords Summer/Winter promotion, ending July 31, 2011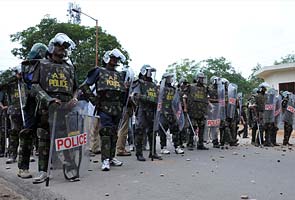 Hyderabad:
Students in Andhra and Rayalaseema regions of Andhra Pradesh on Friday held rallies against bifurcation of the state while the Joint Action Committee (JAC), spearheading the demand for a Telangana state, continued efforts for a joint agitation to achieve a separate state.
Students and activists of various groups opposing the demand for a Telangana state, formed a human chain in Guntur town. Leaders of the groups alleged that politicians for their vested interests were trying to instigate people of one region against the other.
Rallies opposing the demand for bifurcation of the state were also taken out in Vijayawada, Visakhapatnam, Kadapa and Anantapur.
In Visakhapatnam, lawyers favouring "samaikhya Andhra" or united Andhra boycotted courts and demanded that public representatives of Andhra and Rayalaseema regions resign to put pressure on the central government.
State minister from Andhra region E. Pratap Reddy told reporters in Hyderabad that they would put forward before the Centre their demand to keep the state united. He, however, said he would abide by the Centre's decision and rejected the demand for his resignation.
With the venom that is being spewed on in Telengana, its hightime the agitators of Andhra & Royalaseema regions reconcile to the fact that the matter has reached to a no point of return.
And be prepared for an imminent

separation

and gear up for building Andhra-

Royalaseema

region as a power house, as they have done in case of Telengana

during

the Andhra Pradesh.