www.greentekindika.com
Published: Saturday, Jul 2, 2011, 9:35 IST / By Soumyadipta Banerjee | Place: Mumbai | Agency: DNA.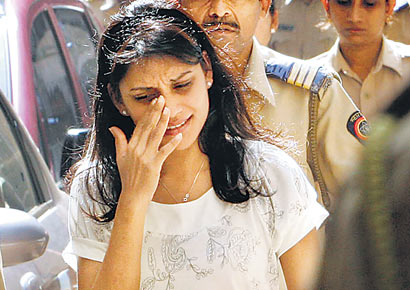 A brush with reality television awaits Kannada starlet, Maria Susairaj, who has just walked free after the court didn't charge her with murder in Neeraj Grover's murder case. Sources say that the production house behind reality shows like Bigg Boss and others have already put her on the top priority list as a reality show contestant. Interestingly, Neeraj Grover was also the deputy creative head of a television production company.
"The moment she was free, we knew that she is a potential candidate for reality shows. She just fits the bill for us. Remember, we got Monica Bedi the moment she landed out of jail? We are going to adopt the same tactic for Maria too. In fact, everybody who comes out of jails are in dire need of money, we would give her an option to solve all her financial worries by offering her a chance to take part in our reality show," says a source, who heads the production unit of a reality show.
1) Ram Gopal Varma also appeared to have released statements, Yesterday, to the effect he would be filiming a movie on Neeraj Grover's murder case and casting Maria in her own role!
02) I belive there would be no dearth of opportunities for celebrity ex-convicts who also happen to look good!
03) With Dominique Strauss-Kahn being let off of that maid's sexual assault case, he too is expected to become President of France!