Have your free copy of
"
My First Beer
"
with
the Smashwords Summer/Winter promotion, ending July 31, 2011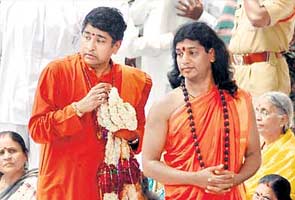 Bangalore: Controversial godman Swami Nithyananda, whose alleged sex tape with a Kannada actor made headlines in March last year, addressed a press conference in Chennai today where he claimed that the footage aired by Sun TV was doctored.

"Someone claimed to represent Sun TV and tried to extort money from me. They asked for R

s.

100 crore, then came down to R

s.

60 crore," said Nithyananda.

Experts from the Forensic Science Lab (FSL), earlier this year, had confirmed the veracity of the sex tape. "FSL report says it's not doctored, but was the aired footage sent to FSL? FSL report is not final authority," said Nithyananda.