www.greentekindika.com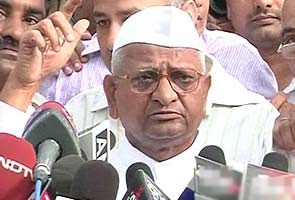 New Delhi:
Anna Hazare, the face of the India Against Corruption campaign initiated by a group of activists, met Congress President Sonia Gandhi this evening, a day before an all-party meet called by the government to discuss the conflicting versions of the Lokpal Bill, one prepared by five ministers and the other by five activists led by Mr Hazare.
Addressing the media after the brief 20 meeting, Mr Hazare said the talks were productive and that he discussed 15 issues concerning the Lokpal draft with the Congress President. He also told Mrs Gandhi that the correct draft of the Lokpal bill should be introduced in Parliament, otherwise he will go on fast from August 15.
In the course of his campaign for the Lokpal Bill, Anna Hazare wrote several letters to Sonia Gandhi. In these letters, he reacted sharply to Congress leaders accusing him of having links with the RSS and the BJP. He wrote to Sonia Gandhi that he was hurt by Congress leaders' "smear campaign" and that it was a conspiracy to defame him. In another letter, he also urged Sonia Gandhi to discuss the Lokpal draft in the National Advisory Council.