FOR LIGHTER READING, Download your free copy of "
My First Beer
" Now
with
the Smashwords Summer/Winter promotion, ending July 31, 2011
NDTV Correspondent, Updated: July 24, 2011 14:44 IST.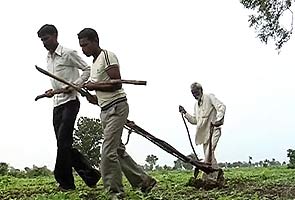 Amravati: Farmers in Vidarbha district of Maharashtra are a desperate lot. Poverty has pushed them to do the unthinkable.

Kishan Rao Dapurkar, a farmer, is tilling his land using his sons instead of bullocks.

"Our financial condition is very bad; we don't have the money to hire bullocks," said Mr Dapurkar's son.

The Dapurkars live in the village of Sirkhed in Maharashtra's Amravati district, where the rains have failed two years in a row.

So while Mr Dapurkar is above the poverty line, because he owns 8 acres of land, his land has produced little and he is deep in debt, like most other marginal farmers in the area, unable to keep bullocks or hire a pair for R

s.

1000 a day.

"A pair of bullocks cost at least R

s.

20,000 and without these animals we cannot till our land. The wages of agricultural labour have also crossed R

s.

250 a day. Farming is unviable," said a farmer.

After the Dapurkars' situation was highlighted by a local daily, district officials agreed to provide power to operate the well - the father and sons dug with their own hands - but their demand for a pair of bullocks was turned down.
VIDEO Clip & Full Story at,