For

US-LEED, LEED India, IGBC Green Homes, Green Factory Buildings, Green SEZs, and Green Townships

:

www.greentekindika.com
Have you read, "
Mayhem of the Miserables
!
" available @ US$ 1/- with
the Smashwords Summer/Winter promotion, ending July 31, 2011
NDTV Correspondent, Updated: July 10, 2011 17:58 IST.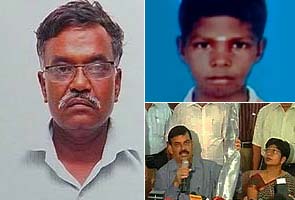 Chennai: The Crime Branch of the Criminal Investigating Department (CB-CID) of the Tamil Nadu Police has said that a retired Army man has confessed to killing 13-year-old Dilshan last week.

The CB-CID team investigating the case has also said they will now seek capital punishment for Retired Lieutenant Colonel Kandasamy Ramaraj.

Addressing a press conference in Chennai today, CB-CID chief R Sekhar said, "Retired Lieutenant Colonel Kandasamy Ramaraj has confessed to his crime and the rifle used was a 30MI Springfield. He shot Dilshan from his balcony. The officer was apparently provoked by the incidents of kids plucking fruits on and off from the Army area. He has been charged under Section 302 of the IPC."

Fifty eight-year-old retired Lieutenant Colonel is an Assistant Engineer in the Arms Section of the Electrical Mechanical Department, Mr Sekhar added.

"The police recovered the rifle used from River Cooum near the Area. We are very proud of our officers for achieving the breakthrough in the case," he said.