FOR LIGHT READING, Download your free copy of "
My First Beer
" Now
with
the Smashwords Summer/Winter promotion, ending July 31, 2011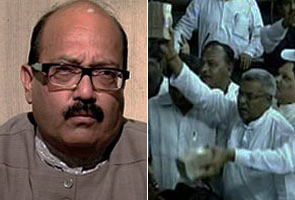 New Delhi:
The Rajya Sabha has allowed Delhi Police to interrogate politician Amar Singh in the cash-for-votes scandal.
Because Singh is a Rajya Sabha MP, the Delhi Police had yesterday written to the Chairman of the House, Vice President Hamid Ansari, to sanction permission for his questioning.
Singh's former aide, Sanjeev Saxena, has told the police that the politician provided the one crore that was intended to buy the support of three BJP MPs in a trust vote in 2008.
Saxena was arrested over the weekend. Singh has denied knowing him well but in court on Monday, the police said that Singh had introduced Saxena as his secretary to BJP MPs.
Saxena was allegedly caught on camera offering one crore if the MPs agreed to vote in favour of the UPA during a no-confidence vote moved against Prime Minister Manmohan Singh in July 2008. Singh was then a senior leader of the Samajwadi Party, which was an ally of the UPA.