For

US-LEED, LEED India, IGBC Green Homes, Green Factory Buildings, Green SEZs, and Green Townships

:

www.greentekindika.com
Have you read, "
Mayhem of the Miserables
!
" available @ US$ 1/- with
the Smashwords Summer/Winter promotion, ending July 31, 2011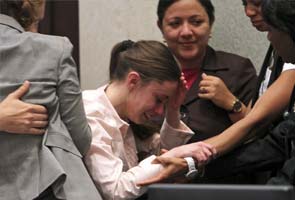 Orlando, Florida: Casey Anthony's eyes welled with tears and her lips trembled as the verdict was read once, twice and then a third time: "Not guilty" of killing her 2-year-old daughter, Caylee.

Outside the courthouse, many in the crowd of 500 reacted with anger, chanting, "Justice for Caylee!" One man yelled, "Baby killer!"

In one of the most divisive verdicts since O.J. Simpson was acquitted in 1995 of murdering his ex-wife, Anthony was cleared Tuesday of murder, manslaughter and child-abuse charges after weeks of wall-to-wall TV coverage and armchair-lawyer punditry that one of her attorneys denounced as "media assassination."

Anthony, 25, was convicted only of four misdemeanor counts of lying to investigators who were looking into the child's June 2008 disappearance.
Anthony could get up to a year behind bars on each count when she is sentenced Thursday. But since she has been in jail for nearly three years already, she could walk free. Had she been convicted of murder, she could have gotten the death penalty.
After a trial of a month and a half, the Florida Ninth Judicial Circuit Court jury took less than 11 hours to reach a verdict in a case that had become a national cable TV sensation, with its CSI-style testimony about the smell of death inside a car trunk and its storyline about a seemingly self-centered, hard-partying young mother.
Prosecutors contended that Anthony -- a single mother living with her parents -- suffocated Caylee with duct tape because she wanted to be free to hit the nightclubs and spend time with her boyfriend.