FOR LIGHTER READING, Download your free copy of "
My First Beer
" Now
with
the Smashwords Summer/Winter promotion, ending July 31, 2011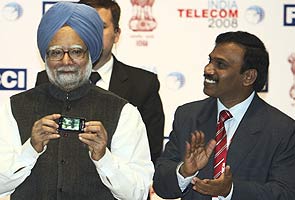 New Delhi: With all guns blazing, A Raja took clear aim today in court at the Prime Minister, P Chidambaram, Ratan Tata, and Attorney General GE Vahanvati. Mr Raja was defending the charges against him in the telecom scam, which he is accused of spawning when he was Telecom Minister.

First, Mr Raja sought to make good by stating, "I did not seek to implicate the Prime Minister and the then Finance Minister in the 2G case." He also blamed the media for "putting words in my mouth" and declared "I am not after anybody."Through the course of the day, he again placed the PM squarely in his line of defense, and said that Mr Chidambaram should be made a witness in the trial.

Mr Raja's position is clear: if he is guilty of violating the country's telecom policy, others who could have prevented him failed to do so. Mr Raja was Telecom Minister till November when he resigned over charges of corruption and the 2G scam. He was arrested in February and has been in Tihar Jail since.

For example, he said that if the Prime Minister wanted, he could have set up a Group of Ministers (GoM) to supervise the manner in which Mr Raja sold licenses in 2008 for mobile networks and the airwaves they use. Mr Raja has been accused of selling those licenses at bizarrely low rates, to companies who were not eligible for them but benefited from Mr Raja's patronage. "The Prime Minister is superior to me and he could have constituted the GoM," Mr Raja said.

In late 2007, Mr Raja over-ruled the recommendations of the Law Ministry that a Group of Ministers be consulted on the pricing and distribution of spectrum. Mr Raja told the PM this was not necessary. Mr Chidambaram was Finance Minister at the time.

As he is going down, he appear to be determinant to tarnish the images of as many big fish as possible!
Whatever, even if the complicity of some of them whom he accuses to be the co-conspirators, is proven, his own guild doesn't get diminished nor his punishment would be reduced!!
Further, so far his line of argument is that he was only following what all of his predecessors were doing but hasn't denied that he hasn't, illegally, gained anything out of spectrum allocation racket!!!