www.greentekindika.com
Kashish, Updated: June 29, 2011 20:29 IST / NDTV.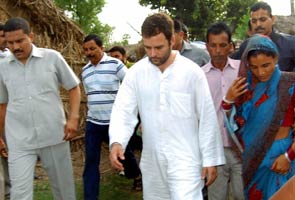 Lakhimpur Kheri (Uttar Pradesh): Like several of his visits to Uttar Pradesh, Rahul Gandhi's destination was not made clear till the very last minute.

The Congress General Secretary visited Lakhimpur Kheri, a three-hour drive from Lucknow and spent a little over an hour with the family whose teen daughter was found hanging at a police station earlier this month. Her parents say she was raped, then killed. The post-mortem reports do not establish that she was sexually assaulted.

A series of rapes this month have forced Chief Minister Mayawati to confront accusations that her government and police force are failing women in UP. She has not visited this family. Uttar Pardesh votes next year, and political parties led protest marches in Lucknow this week to highlight the weaknesses in Mayawati's governance.
How can Mayawathi meet families of rape and / or murder victims?
If she has to do that, she needs take a Chopper and hop from village to village, whole day, forgetting

administration

of state!
Anyway, she is not doing any meaningful administration either!