LEED Consultancy, Green Building Design, Green Homes, Green Factory Buildings, Green SEZs, Green Townships.
Kashish, NDTV / Updated: June 27, 2011 21:18 IST.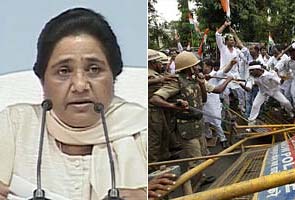 Lucknow: With a grim harvest of rapes to answer for in her state, Uttar Pradesh Chief Minister Mayawati has announced a new strategy to check crimes against women. The attention to detail comes after a high-volume attack from Opposition parties, and a protest march staged by the Congress in Lucknow today.

Last week, there were eight rapes reported in 48 hours. The violence against the women - most of them young, some of them Dalits - was compounded by policemen who brushed aside the need to register complaints and cases.

So the Chief Minister has warned that senior officers in charge of police stations will face punitive action - and in some cases jail - if there is evidence of any dithering when it comes to helping women victims.

Mayawati says she will also travel across the state to conduct surprise inspections of law and order after the UP Assembly session ends in August.

The government also plans to launch a month-long drive to check atrocities against women - details of this have yet to be shared.