LEED Consultancy, Green Building Design, Green Homes, Green Factory Buildings, Green SEZs, Green Townships.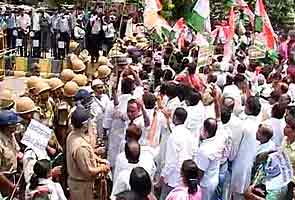 Lucknow:
Despite being warned against it, the Congress has decided that it will stage its nyaya (justice) march in Lucknow. There's considerable tension in the city. A group of Congress workers were lathi-charged this afternoon and the party's president in UP, Rita Bahuguna Joshi, has been detained by the police.
Chief Minister Mayawati is meeting senior police and administration officials. The Congress says it has the right to protest against the breakdown of law and order in the state. In the last two weeks, a glut of attacks against young women - some of them Dalits - have fuelled the Opposition's allegations that the state, despite being headed by a woman, cannot protect young girls.

In Delhi, Rahul Gandhi underscored his party's stand by visiting a young teen who was attacked recently in Kannauj in Uttar Pradesh. Her eyes were stabbed by the two men who tried to rape her. http://prmadhura3.blogspot.com/2011/06/up-crimes-rahul-gandhi-visits-hospital.html

Mayawati says it's unfair of the media and the Opposition to single out UP for its crimes against women. She said that similar attacks take place elsewhere, but do not face the sort of microscopic attention that her administration is receiving.
"If any incident takes place in Uttar Pradesh, the Congress government takes that opportunity to put a wrong picture through the media. The Congress government plays politics on any incident that takes place in UP," Mayawati said.
No doubt, other states of India too have crime rates going up, by the day, but none as extensive as in UP of rapes of the weaker section women, especially minor girls, mutilating them and murdering them apart from the murders of politically inconvenient persons.