LEED Consultancy, Green Building Design, Green Homes, Green Factory Buildings, Green SEZs, Green Townships.
Last updated on: June 25, 2011 09:59 IST / Rediff.com.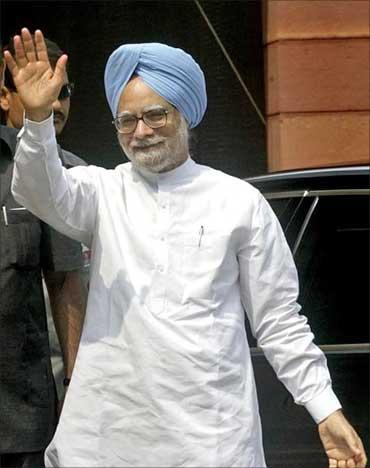 T

wenty years ago, Manmohan Singh was a man with a mission. After his first Budget as finance minister, he barged into a post-Budget press conference called by his officials, to personally explain what he was doing. He gave lengthy interviews; he spoke from virtually every available platform, to get across the need for change.
Later, when Narasimha Rao announced a series of Independence Day handouts, Dr Singh gave an interview to say that the country could not spend its way to prosperity (Sonia Gandhi, please note).
And towards the end of the Rao government's tenure, when the atmosphere became thick with deal-making, he spoke out courageously against crony capitalism.
The contrast with today could not be more striking, as the country seems to have a prime minister-in-hiding. You see him seated at meetings, looking a trifle lost, or mouthing homilies at government functions (the MAFA syndrome -- mistaking articulation for action). Other than that, he is both invisible and silent. This is no way to lead.