For LEED
Consultancy

/ IGBC

Certifications

, Green Building

Design

, Green Homes, Green Factory Buildings, Green SEZs, Green Townships

&

Energy Audits

-
www.greentekindika.com
NDTV Correspondent, Updated: August 24, 2011 12:05 IST.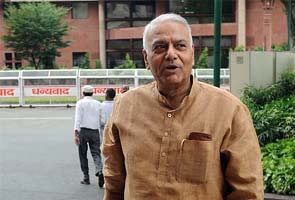 New Delhi
:

Senior BJP leader and MP Yashwant Sinha has said he will resign from the Lok Sabha if his party does not take a stronger stand on the anti-corruption Lokpal Bill.
Mr Sinha attacked his party at a meeting this morning of its MPs.

He said the BJP's current position on the Bill is tough to justify in public.
Mr Sinha's comments come hours before an all-party meeting on the Lokpal Bill.

Anna Hazare is on the ninth day of his hunger strike.

The 74-year-old Gandhian wants his activists' version of the Bill to be introduced in Parliament. Team Anna says the government's version of the Bill, which was introduced a few days ago in Parliament, must be withdrawn.