For LEED
Consultancy

/ IGBC

Certifications

, Green Building

Design

, Green Homes, Green Factory Buildings, Green SEZs, Green Townships

&

Energy Audits

-
www.greentekindika.com
Chris Stephen in Misrata, Luke Harding in Sabratha and Peter Beaumont, guardian.co.uk / Friday 19 August 2011 20.11 BST.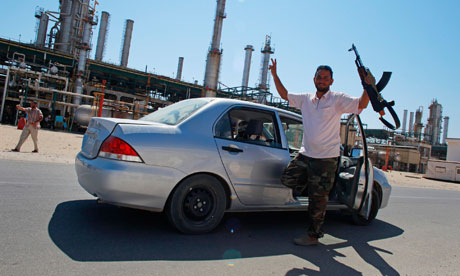 A fighter gestures after rebels seized full control of the Zawiyah oil refinery. Photograph: Bob Strong/Reuters.
Muammar Gaddafi
's 41-year grip on power in Libya looked more precarious than ever on Friday night, as rebel forces advanced on the capital from three directions after breaking out of the once-besieged town of Misrata.
With rebels taking control of the coastal town of Zlitan in the east, those in the west claimed to have made progress clearing out the last pro-Gaddafi troops from Zawiyah, 30 miles west of Tripoli. They now have the main coastal road under pressure on both sides of the capital and also under threat from the Nafusa mountains.
Gaddafi's army outside Tripoli is trapped in a series of besieged and shrinking enclaves, with rebels controlling more than two thirds of the country. And as the stranglehold on the capital tightens, plans are being made to evacuate the last remaining foreign workers by sea.
It was a day of heavy street fighting in Zlitan, where rebels from Misrata came up against tanks and troops from the 32nd brigade commanded by Gaddafi's son Khamis. Thirty-five rebel troops were killed and scores more injured.
By Friday night, however, opposition leaders said they had taken control of the city 100 miles east of Tripoli. They said their column had reached the outskirts of Al Khums another 30 miles along the coast.
Al Khums commands the last significant road junction before the capital. Rebel spokesmen in Misrata said their forces were now in a valley not far from the town. "Zlitan is now under thwar [revolutionary] control," said Ali Gliwan, spokesman for Misrata's military council. "Misrata thwar linked with the Zlitan thwar. They are now establishing control of the town."
At Misrata's Mujamma Aledad hospital, bloodied bodies of the wounded and dead rebel fighters filled the corridors. "It's a big rush, many martyrs," said Dr Jamal Mustafa, sitting exhausted on a gurney. "Some of the faces, three of them we cannot recognise."
He said wounded fighters had told him government troops had hidden rocket launchers inside buildings to ambush fighters as they pushed into the town. "The bloody bastards, they hid in the houses, they know we [rebels] will not shoot at the houses for fear of killing civilians."
A large crowd of relatives and blood donors gathered at the hospital. One elderly woman in black was guided through the crowd, wailing and shrieking that her son was wounded. "I wish for God to take Gaddafi," she shouted. "I wish for God to take him."