For LEED
Consultancy

/ IGBC

Certifications

, Green Building

Design

, Green Homes, Green Factory Buildings, Green SEZs, Green Townships

&

Energy Audits

-
www.greentekindika.com
Ian Black, Middle East editor, guardian.co.uk / Monday 8 August 2011 21.42 BST.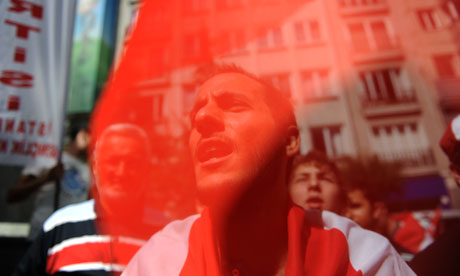 Syria continues its crackdown on pro-democracry activists despite protests from US and Arab states. Above, protest at the Syrian consulate in Istanbul, 7 August 2011. Photograph: Bulent Kilic/Getty Images.
Syria defied Arab isolation and mounting international anger on Monday as President Bashar al-Assad's security forces continued attacks on pro-democracy protesters across the country.
The US secretary of state, Hillary Clinton, urged al-Assad to return his troops to barracks and release all prisoners, one of the bluntest demands yet made of the Syrian leader, after regional powerhouse Saudi Arabia led a rare chorus of Arab states in condemning the repression.
Reports from Deir al-Zor described artillery and heavy machinegun fire and snipers on roofs as troops and intelligence agents carried out mass arrests in the north-eastern city. On Sunday, 42 people were killed there, nudging the death total during five months of the uprising to more than 2,000.
In Hama, security forces were reported to have deployed an anti-aircraft gun to fire on civilians, diplomats said. Videos from around the country purported to show gunfire, shelling and corpses from violence over the weekend. Three people were reported to have been shot during a funeral in Deraa.
In a political development, al-Assad announced the replacement of his defence minister, Ali Habib, a member of the minority Alawite community, by the army chief of staff, Daoud Rajha, who is a Christian. Analysts said the move seemed intended to emphasise the regime's claim to be defending all Syrian citizens against a sectarian conflict it says is being fomented by Islamic extremists.
State TV described Habib as being in poor health and said the decision to replace him had been taken after consultations by the president.
Syrian media scorned moves by Saudi Arabia and its Gulf allies to protest against the violence by withdrawing their ambassadors from Damascus. The Sana news agency quoted an unnamed official as expressing "regret" that Arab states had "completely ignored facts on the killing and sabotage committed by armed terrorist groups".
01) As I have been howling hoarse since long, Dictators like
Bashar al-Assad, Muammar Gadaffi (Libya) and Ali Abdullah Saleh (Yemen) won't go on their own!
02) Sanctions, International Pressure, boycott, etc. won't work, either!!
03) Under the circumstances, the only solution appear to be an International Forces, preferably constituted by U.N.O. to invade the Syria to arrest the Dictator and book him for Human Rights Violations, install an interim government, allow the free & fair election of the First National Assembly to draft a New Democratic Constitution, for Syria!!!