For LEED
Consultancy

/ IGBC

Certifications

, Green Building

Design

, Green Homes, Green Factory Buildings, Green SEZs, Green Townships

&

Energy Audits

-
www.greentekindika.com
By Michael Martinez, CNN / August 12, 2011 -- Updated 0947 GMT (1747 HKT).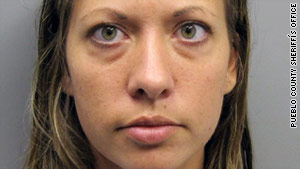 Lee Grace Dougherty was part of a trio of siblings wanted for crimes in the Southeast. They were captured in Colorado.
(CNN) -- Just before she and her two brothers were captured after a manhunt lasting more than a week, Lee Grace Dougherty pointed her machine pistol at a Colorado police chief, but the chief fired his .40-caliber handgun first, wounding her in the right upper thigh, according to an investigator's affidavits released Thursday.
"I pointed the gun at the cop," Dougherty told the FBI and Colorado Bureau of Investigation agent Christian L. Mohr.
"I deserved to get shot," Dougherty, 29, told authorities, according to Mohr's affidavit. "The cop said drop the gun."
Southeast's Daugherty siblings caught in Colorado
When she was shot, "instantly, I let go of the gun," Dougherty told the FBI. "The pain was all through my body."
The cop who wounded her was Walsenburg, Colorado, Police Chief James Chamberlain, according to the documents.
Thursday's release of the investigator's affidavits -- filed in support of the siblings' arrests -- provided new details about the moments leading up to authorities' capture of the three Dougherty siblings Wednesday. The FBI and other law agencies conducted a multistate dragnet for the trio for more than a week.
The three siblings, arrested Wednesday after a high-speed chase by police resulted in the crash of the Doughertys' vehicle on a rural Colorado highway, had their first court hearing Thursday in Pueblo, but the three waived their right to appear, according to CNN affiliates KGTV and KUSA.
A public defender represented them in their absence, according to the CNN affiliates.
Lee Grace Dougherty, brother Ryan Edward Dougherty, 21, and half-brother Dylan Dougherty Stanley, 26, face numerous charges.
The three were wanted in an armed bank robbery in Georgia and were suspects in the attempted murder of a Florida police officer. Both incidents occurred August 2.