For LEED / IGBC
Certifications

,

Consultancy

, Green Building

Design

, Green Homes, Green Factory Buildings, Green SEZs, Green Townships

&

Energy Audits

-
www.greentekindika.com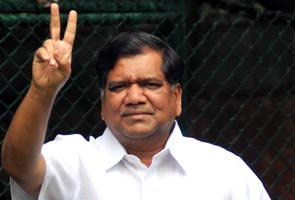 Bangalore: It was raining the day BS Yeddyurappa walked to the Karnataka Raj Bhawan to submit his resignation. That set in motion fast-paced political developments, drama and dissidence that culminated in the swearing in of 21 Cabinet ministers today. It rained again.
Among the first to take oath was Jagadish Shettar, the man who became the rallying point of a rebellion within the BJP against Mr Yeddyurappa and his close aide Sadananda Gowda, who is now Chief Minister. Mr Shettar was the man 55 of the BJP's 121 MLAs wanted as Chief Minister. About 10 more - 65 - voted for Mr Gowda last week in a secret ballot vote.
Sulking, most of the rebels boycotted Mr Gowda's swearing in ceremony last Friday. As a result, Mr Gowda was sworn in without any ministers, despite a braveheart effort to walk into the rebels' den and make peace. Since then, the rebel camp has sulked and held strategy meetings at Mr Shettar's house negotiating for plum posts.
Today's ceremony thus brings some respite to the Chief Minister. The set of 21 ministers sworn in today include people both from the Yeddyurappa-Gowda camp and the Ananth-Kumar-Shettar camp. All of them were ministers in the last Cabinet.
Not on the list today are the Reddy brothers and their close aide Sriramulu, who face charges even more serious than Mr Yeddyurappa does in the Lokayukta's report on illegal mining. It is believed that the BJP's central leadership is not keen on their inclusion in the Cabinet, especially after Mr Yeddyurappa bowed to party wishes and resigned after being indicted in the report. The BJP is waging a larger, bitter war against the UPA at the Centre on the issue of corruption and can ill-afford to have chinks in its armour.