For LEED Consultancy, Green Building Design, Green Homes, Green Factory Buildings, Green SEZs, Green Townships,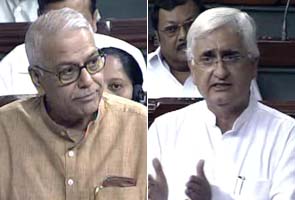 New Delhi: The Opposition got down to business today, challenging the government to explain why it has not been able to control rising prices.

A debate on the issue in the Lok Sabha will be followed by a vote. The discussion was initiated today by the BJP's Yashwant Sinha, who delivered a series of body blows. "We do not agree that growth is related to prices. If growth means a rise in prices, then we do not want such growth," he said. Then he pulled out the C-stick that the Opposition wants to beat the government with in this parliament session.
"Corruption is the biggest cause of price rise," Mr Sinha said. He pointed out that food grain is rotting in warehouses instead of being distributed to the poor

Mr Sinha said his party "urges the government to overcome its inertia" to introduce a comprehensive food pricing and management policy. "This will not only bring relief to the common man but will also serve as an antidote for the growing economic imbalances in the country."

The BJP also offered some advice to the government. "When I was Foreign Minister," Mr Sinha added, "I would move around the world, my photos would get published. But when I went to a remote village in my constituency, asking for votes, an old lady asked me 'What's the price of kerosene?' I had no answers. And we lost the elections. You will meet the same fate," he warned
Full Story at,