For LEED / IGBC
Certifications

,

Consultancy

, Green Building

Design

, Green Homes, Green Factory Buildings, Green SEZs, Green Townships

&

Energy Audits

-
www.greentekindika.com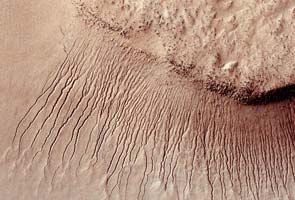 Washington: Scientists have spotted dark stripes on some slopes on Mars in the warmer months, and they believe it may be evidence of flowing salt water, NASA researchers said on Thursday.
If confirmed, it would be the first discovery of active liquid water in the ground on Mars.
Finger-like markings have shown up along several steep slopes in the middle latitudes of Mars' southern hemisphere, fading again once colder temperatures move in, according to data from NASA's Mars Reconnaissance Orbiter.
"The best explanation we have for these observations so far is flow of briny water, although this study does not prove that," said Alfred McEwen of the University of Arizona's Lunar and Planetary Laboratory.
"It's a mystery now, but I think it's a solvable mystery with further observations and experiments," said McEwen, lead author of a study explaining the findings in the journal Science.