For LEED Consultancy, Green Building Design, Green Homes, Green Factory Buildings, Green SEZs, Green Townships,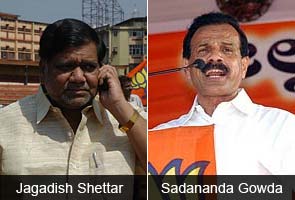 Bangalore: "My big smile will last for 22 months," said the man who will formally take over as Chief Minister of Karnataka today. Sadananda Gowda, 54, will have to work hard to keep that famous grin in place. (Read: Who is Sadananda Gowda?)

Close to 55 of the BJP's 121 MLAs in Karnataka are considering boycotting Mr Gowda's swearing-in, scheduled for 4 pm. These MLAs are loyal to BJP General Secretary Ananth Kumar, who tried to have his candidate, Jagadish Shettar, elected as the new Chief Minister. Mr Shettar lost the vote conducted yesterday by secret ballot by 12 votes.

"We have not been invited to the swearing-in," said Mr Shettar, who is the Rural Development Minister. "After we get the invite, we will think about it," he said. A minister close to Mr Shettar said that he has refused an offer to serve as the Deputy Chief Minister. The Shettar camp had breakfast this morning at his home. Bang next door lives Mr Gowda, who decided to drop in for breakfast at his rival's home - a gesture of goodwill that could go a long way in bridging the gap.

The 22 months that Mr Gowda referred to is how long the BJP has before Karnataka votes again. The party is trying to balance caste equations in the state. Mr Gowda is a Vokkaliga, the second-largest community in Karnataka. Mr Shettar on the other hand belongs to the Lingayat community which makes up a powerful votebank.

Having the top two communities represented at the highest levels of government would possibly come as close as the BJP can get to keeping everyone happy. Now if only Mr Shettar would cooperate. "I have seen more turbulence when I was BJP president (in the state)," said Mr Gowda today.