For LEED
Consultancy

/ IGBC

Certifications

, Green Building

Design

, Green Homes, Green Factory Buildings, Green SEZs, Green Townships

&

Energy Audits

-
www.greentekindika.com
By Harmeet Shah Singh, CNN / August 15, 2011 / Updated 1553 GMT (2353 HKT).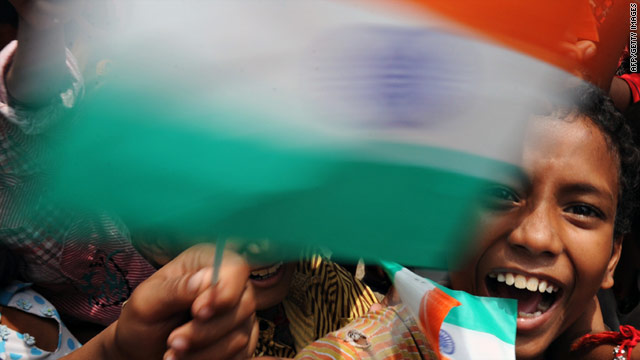 An Indian child waves his national flag during celebrations marking the country's Independence Day in Kolkata.
New Delhi (CNN)
-- In New Delhi's upscale diplomatic district, Ram Dhan lives in a parallel world.
For years, his home has been a rickety shanty that he shares with his ailing wife, a young son, a daughter-in-law and two grandchildren.
Now 62, Dhan has lived through India's journey as an independent nation. He finds little reason to rejoice as the country celebrates Monday, the 64th anniversary of freedom from British rule.
"The poor have hardly benefited," he says.
Sitting on a cot in his shack huddled in a squalid slum in one of the richest neighborhoods of the Indian capital, he bitterly recalls how flooding in his native village ravaged his ancestral land way back in 1978 and forced him to move to the city in search of work.
But today, Dhan says, the family of six can barely manage $130 a month. "This is no development ... or growth. I think we have moved backwards," he says.
Dhan typifies the hand-to-mouth existence millions of Indians still live despite the nation's rise as Asia's third-largest economy.
In a speech on the eve of his country's independence in 1947, India's first prime minister, Jawaharlal Nehru, made an impassioned call to fight and end "poverty and ignorance and disease."
Sixty-four years later, his successors accept that that fight is far from over.